To understand the feeling of crisis that many see in higher education right now, it's useful to start with some figures from 40 years ago. In 1974, the median American family earned just under $13,000 a year. A new home could be had for $36,000, an average new car for $4,400. Attending a four-year private college cost around $2,000 a year: affordable, with some scrimping, to even median earners. As for public university, it was a bargain at $510 a year. To put these figures in current dollars, we're talking about median family income of $62,000, a house for $174,000 and a sticker price of $21,300 for the car, $10,300 for the private university and $2,500 for the public one. In 1978, a student who worked a minimum-wage summer job could afford to pay a year's full tuition at a 4-year public university.
A lot has changed since then. Median family income has risen slightly, to about $64,000, while median home prices have increased by about two-thirds. (Car prices have remained steady.) But the real outlier is higher education. Tuition at a private university is now roughly three times as expensive as it was in 1974, costing an average of $31,000 a year; public tuition, at $9,000, has risen by nearly four times. This is a painful bill for all but the very richest. For the average American household that doesn't receive a lot of financial aid, higher education is simply out of reach.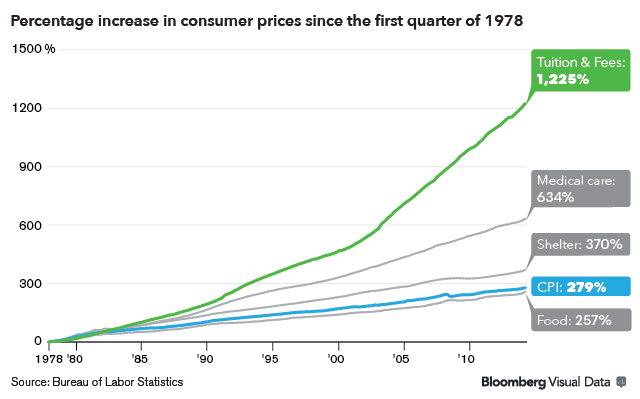 The cost of higher education has jumped more than 13-fold in records dating to 1978, illustrating bloated tuition costs even as enrollment slows and graduates struggle to land jobs.
The chart above shows that tuition expenses have ballooned 1,225 percent in the 36-year period, compared with a 634 percent rise in medical costs and a 279 percent increase in the consumer price index.
Education can have enormous personal benefits for those who acquire it, but it also has external benefits to the rest of society. Education exerts something of a multiplier effect; it transforms not only the lives of the educated but of those around them as well. Workers with more education are more productive, which makes companies more profitable and the overall economy grow faster. There are also significant noneconomic benefits. Educated populations tend to be healthier, more stable and more engaged in their civic institutions and democratic debate.
For young adults from educated, middle-class families — the people who will find a way to get through college despite the costs — rising college tuition is a personal challenge. But the great national crisis is the fact that too many other young adults are not going to college or, if they do, don't graduate, in large part because they can't afford it. Every American benefits when every other American has access to as much schooling as he or she wants. When accessibility to higher education declines, we all end up paying for it.
The nation's economy demands that workers possess increasing levels of knowledge, skills, and abilities that are best acquired through postsecondary education. Without workers who have the right foundations, the United States will lose ground to countries that have prepared better for the demands of the 21st century workforce and, ultimately, the United States economy and security will be jeopardized.

Our goal at GH Mission is to provide tutoring and mentoring for students to get the college credits needed to acquire a degree at a significantly lower price than would be paid traditionally while also saving time. The College-Level Examination Program (CLEP) awards college credit at more than 2,900 U.S. colleges and universities for demonstrating achievement in a subject by means of a computer-based exam.[i] By earning a satisfactory score, you may earn the same amount of credit as a student who successfully completed the same course at that school. Prospective students enrolling in accelerated degree programs are usually encouraged to take the CLEP test. Our CLEP classes cost $390, which includes the administrative fee and the cost of the exam. This includes 3 hours of tutoring in a classroom environment.

CLEP Test Basics
The 33 CLEP exams which are available fall under five different areas of study:
Composition and Literature
Foreign Languages
History and Social Sciences
Science and Mathematics
Business
There are a few types of CLEP exams:
General exams. These include College Composition, Humanities, Mathematics, Natural Science and Social Science and History. These are broad in scope and cover many different topics within each area. Each of the general exams is worth six credit hours. That means if you take all five, you could earn thirty credits – that's comparable to the credit a full-time student would earn by taking classes for an entire year!
Subject exams. The other exams, cover more specific topics. Most of these exams are worth three credit hours each, but a few are worth six credits each. A specialized type of subject exam are the three foreign language exams. Available in Spanish, French, and German, these exams are worth six or twelve credits, depending on how well one scores.
What are some benefits of CLEP?
By successfully passing each test, you will receive college credit that can:
Enhance your degree
Allow you to skip beginner courses
Able you to take higher level courses faster
Help determine your readiness for classes
Apply knowledge you already have
Save money on books and tuition

How is the CLEP exam structured?
All CLEP exams are administered by computer. A CLEP exam is an hour and a half long and consists mostly of multiple-choice questions (some exams have fill-in-the-blank questions), except for English Composition with Essay and College Composition.
The College Composition exam contains multiple-choice items and two mandatory, centrally scored essays. Each of the two essays is graded independently by two different professors from around the country, and those two grades are combined. This combined grade is added to the grade from the multiple choice part of the exam to provide your one single score on the overall exam.
The College Composition Modular exam is different in that it contains multiple choice items and also an essay portion that is graded by the receiving university itself.
The English Composition with Essay exam is an essay question that must be completed in 45-minutes, in addition to a 45-minute multiple-choice section.
Because universities can be particular about which of the College Composition courses they will accept, it is best to wait to take this until you have been informed by an academic advisor how to proceed.
For any exam, you should plan to allow at least two hours to complete testing. It is also recommended that you take no more than two different subject CLEP exams in one day.
When do I get my CLEP score?
Since CLEP exams are entirely computer-based, you should receive your score immediately after completing the test (except for College Composition and College Composition Modular, in which case you will receive your score in about four weeks). In about a month, any score recipient, if you designate one at the start of the exam, will receive your official score report.
What does the CLEP exam cost?
The fee for each CLEP exam is $80, plus any service fees payable to the testing center. However, for eligible military service members and eligible civilian employees, CLEP exams may be free of charge.
To find out the cost of college tution, use the link below. Select the state and college name or just select the state or zip code to view detailed information for each.
National Center for Educational Statistics - College Navigator
You can also check our calendar and check the CLEP courses menu to enroll or contact us if you have any additional questions.